The Addams Family play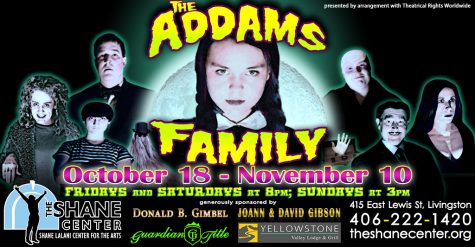 The Shane Center presents The Addams Family play, starring Park High senior Kate Reid as Wednesday Addams, along with Michael Breis as Gomez Addams and Quenby Iandiorio as Morticia Addams.
     The Addams Family has been around since September 18, 1964. After 55 years, the Shane Center has brought it to life with a cast of 20 amazing actors. Some are adults working in the community, but some are teenagers from Park High School. They all sang amazing solos, group songs and duets.
They sung many songs during the play, but the one that stood out to me was When you're an Addams. This song tells you more about the Addams Family: their side of the world, how their family works. It gives everyone in the family a chance to say something about themselves.
The Shane Center's Stage was transformed into the Addams' house. It's set up with Gomez's room to the left, the torture chair to the right and the house in the middle.
The two very different families had to have one dinner together at the Addams house, but Wednesday Addams has a secret only her boyfriend and father knew about.
I thought all the characters put together made a great story.  The Grandma gave some advice to the little brother that turned out bad. The uncle understood the love between his niece and her boyfriend because he too was in love. With Wednesday's mother, father, brother, uncle, grandma and the ancestors, they all contributed to the story.
I think everyone should watch this play. It shows how the characters had to change and it shows how hard the actors rehearsed.
The shows are every weekend. Fridays and Saturdays the show starts at 8 pm. Sundays the show starts at 3 pm. Your last chance to see it is November 10, so you should get your tickets soon. They cost $18 for adults, $14 for seniors and college students, and $10 for 17 and younger. You can either reserve online on their website or buy tickets at the Shane Center, if they are not sold out yet.