Who should've actually won the Mr. PHS Contest?
Hang on for a minute...we're trying to find some more stories you might like.
Shayne Gipson. The winner of the Mr. PHS Beauty Pageant. Thursday night on April 11 was the Mr. PHS Beauty Pageant between eight of Park High's senior boys. This included Shayne Gipson, Gubson Hairickson, Bluddy Mruphy, Rivrol Nichls, Jahn Wadeell, Mitt Natly, Jimosun Greyer, and Mcleod Versland. The beauty pageant was a fundraiser held by BPA to raise money for their trip to Anaheim, California. The contestants competed in a variety of different categories in effort to wow the judges and crowd. These categories were poise and appearance, swimsuit, physical fitness (group dance), interview, and talent.
Surprisingly, Versland was the runner up right behind Gipson who somehow was able to slither his way to the top. Gipson performed a well-executed dance alongside Mitt Natly for his talent that stole the show. Versland, miraculously, chugged a half gallon of chocolate milk while curling a dumbbell on stage with Hairickson and Mruphy who also performed multitasking events. Wadeell showed off his artistic skills by drawing a portrait of Brendon Johnson. Nichls was able to contort his body into quite disturbing positions. Lastly, Greyer performed a surprise lip-syncing to a country song.
Gipson was very excited to win the very tight race for the fame of Mr. PHS. However, the real winner was the runner up who by far was the crowd favorite from the very beginning. Many were devastated and distraught that Versland came up short, but they know in their hearts that he was their true winner of the beauty pageant. In the end, all contestants performed very well and had a fun time competing amongst one another.
*The spelling of contestant's names was purposely misspelled by Mcleod Versland, Production Assistant, to show his opinion of the Mr. PHS Beauty Pageant. *
About the Writer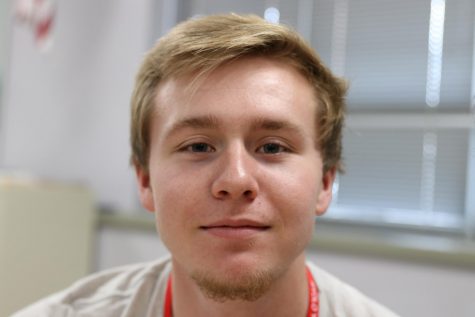 Mcleod Versland, Production Assistant
I am incredibly important to this department. I can do pretty much anything that is needed. I write stories, edit pages in the Geyser, help with videos...