Cross-Country team takes home state victory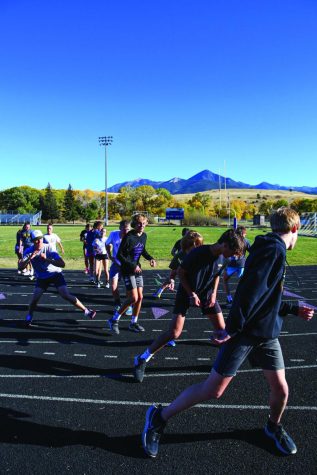 This 2022 Cross Country season will go down in Park High school history. The boys' team accomplished something never done before in Park High: they became state champions. Along with that, they also won divisionals.
The members of the team are Charlie Serafin, Andrew Durgan, Reid Malcolm, Kimball Smith, Augie Stern, Finn Schretenthaler, and Cameron Sestrich. All these kids worked so hard through the whole season and did something that will never be forgotten.
The boys' team had some very impressive times over the year, with Charlie at 16:25, Andrew at 16:42, Finn at 16:42.3, Kimball at 17:20, Reid at 17:27, Cameron at 18:00, and Augie at 19:01. With these kind of times, they were able to win seven meets this year.
"We knew it was possible, but during the entire race, it was 15 to 18 minutes of just nerve-racking watching guys run their hearts out and knowing you can't help them," said Coach Kirk Lentz
The boys' and girls' team was coached by head coach Lentz and assistant coach Bridget Kelly. They have both worked hard for many years training and working with these kids. The whole team has dedication, good work ethic, and a drive, which allowed the boys team to become state champions.
The team had been working on more leg speed and trying to polish out their running for divisonals and state. They have the endurance and the confidence, they just had to put it all together. Obviously, they did.
"We're seeing that in their weekly PR's, no matter what the course, no matter what the conditions," said Lentz.
This year's seniors on the team are Andrew Durgan, Charlie Serafin, Ryan Davis, Anna Gasparakis, Reid Malcolm, Haley Rigler, Elise Wadle, and Carter Frederickson. Most of them have been running cross country since they were in 6th grade. They all have had an outstanding season and are sad about their final high school season of cross country. They are definitely going to miss running with Park High and will be missed.
The girls team had their own lofty goal at state this year: to beat Billings Central in the state meet. They achieved this goal, beating them by 13 points.