Ranger spring sports teams move onto state after divisional success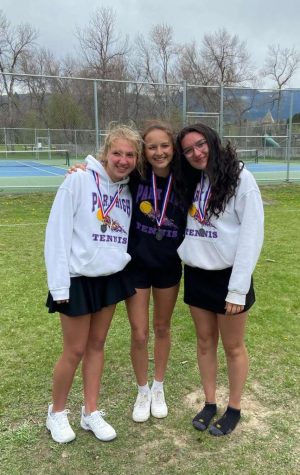 This past week of May has been eventful for Park High's spring sports. The Softball, Tennis and Track athletes have been face to face with the end of their season while competing at their divisional competitions, and for the senior athletes they have been battling for a little longer to play their last Park High sport.
Park High's softball team finished their divisional bracket sitting in the third seed which will send the girls to state in Hamilton from May 26th to the 28th. Their state qualification was not easily earned. The Rangers started off with a loss to Laurel Tuesday, but this didn't prevent them from moving forward. It did, however, make it a lot more difficult to qualify. From that loss they played Lockwood Wednesday morning and took the win.
This success led them to the consolation game for third place against Hardin which took place directly after their previous game. Junior Ava Malone, the Ranger's varsity pitcher, expressed how she used the potential of this being their last game as motivation to work her very hardest and play her own best game to be able to continue with their season. When asked how Malone believes she and the team have overcome many of the challenges faced this season she said, "it's all in our mental game. When we all are on the same page and think that we can do it, we can overcome these difficulties." Thursday, May 26, the Rangers will play their first game at state against Fergus at 11:00 A.M.
Park High School's Tennis team, who hosted this year's divisional competition, finished with many successes and will be sending a number of participants to state in Bozeman from May 26th to the 27th. Debbie Chambers and Tess Cocotos qualified for doubles thanks to their devoted and determined attitudes.
Chambers and Cocotos have had challenges competing with Billings Central this season. Early season they beat them but suffered a loss against them in the May Fair Tournament. However, this loss just drove them to up their game and when they faced them again at the divisional competition the girls competed against them much better than before, not taking the win but greatly improving their game.
Houston Dunn and Caleb Jorgenson also qualified for doubles. Other single qualifiers include Elsa Cajune and Bodie Shepardson. When senior Debbie Chambers was asked about what motivated her to make it to state she replied, "I have the senior mentality, this was my last chance".
The Park High's Track and Field team walked away from their divisional meet in Lockwood over May 20th and 21st with multiple state qualifiers as well. Veronica Glenn, Ashley Strupp, Stella Edwards, and Megan Nelson made up the girls four by four relay team placing fourth with their promising 4.24.
For individual qualification, Vaylente O'Brien made it for pole vault, Ashley Strupp with the 300 hurdles, and Megan Nelson making it for javelin in addition to the relay. The boys four by one relay team was made up of Drew Rogge, Payton Kokot, Tyler Grenier, and Carter Bartz who successfully placed according to state qualification. Reed Malcome, Charlie Serafin, Andrew Durgan, and Ryan Brown made up the Park boys four by four team also qualifying to run in Butte.
Individually, Carter Bartz and Asa Duncan qualified for pole vault, Payton Kokot made it for long jump, triple jump, and high jump, Drew Rogge also qualifying for triple jump, and Ryan Brown making it for long jump. As for running events, Charlie Serafin made it for the 2 mile, and one mile, and Andrew Durgan for the 800 meter. The Park High Track and Field team have high hopes for the upcoming state meet the will take place in Butte on May 27th and 28th. There are numerous athletes facing records to beat and titles to earn.
These past few weeks have been full of hard work from the Ranger Athletes in hopes of making it past divisionals to prove it at state. For many of the senior athletes this is a goodbye to their purple and gold jerseys but there are memories made that will never be lost. The community is sending off these teams with lots of good luck wishes and support.