Students use tipi in courtyard to celebrate Native American Heritage Month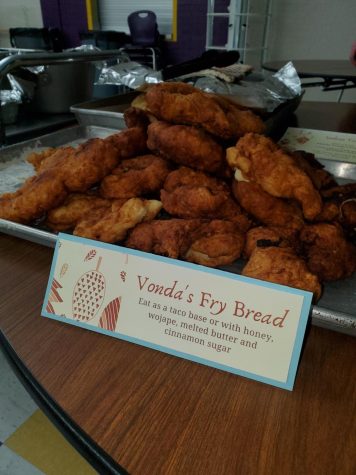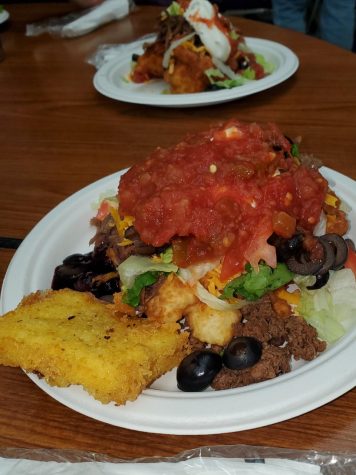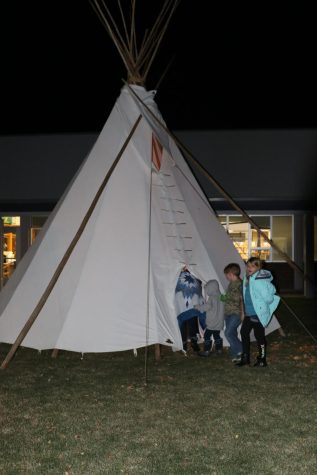 Students in the Survival Science and Native American Studies classes at Park High set up the canvas tipi in the school courtyard during November as part of Native American Heritage Month.  Social Studies teacher Kyle Neibauer has been using the structure with his Native American Studies class as a place to read Joseph Medicine Crow's book, Counting Coup, and also for lessons in tipi etiquette and Native American traditions such as smudging with sweetgrass.  Principal Lori Dust, whose tribal affiliations are with the Miami and Crow tribes, brought a metal fire pit to use in the tipi and led Neibauer's class in a smudging ceremony.
November 19, Dust and Art teacher Sarah Mussetter, an enrolled member of the Tsitsistas (Northern Cheyenne) tribe, hosted a fry bread feed in the courtyard for Park High staff and their families.  Mussetter made her Aunt Vonda's fry bread, berry pudding, and other traditional Native American dishes, and Neibauer provided bison and elk meat for the feed.  Prior to eating, Mussetter gave a traditional Cheyenne meal blessing and explained the origin of the dishes she prepared.
After the meal, Dust shared stories of her participation in a bison hunt on the Crow reservation.  Staff and their spouses and children gathered around the fire inside the tipi, enjoying the warmth on a cold and rainy evening.