Park High is Eager to Welcome Newly Hired SRO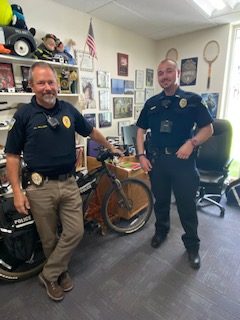 For the past several years, students strolling by the Student Resource Office may have been greeted by floor-to-ceiling shelves littered with collections of toy patrol cars, or even a life-size cardboard cutout of Officer Dangle from Reno 911. Although many of us have enjoyed the comical scenery of the Student Resource Office, starting off this next school year the Resource Office will not only be newly renovated with life-sized posters of Kanye West and other fan favorites, but the office will also be home to a new occupant, Student Resource Officer, Chris Gentile. Along with Officer Gentile, many students, staff, and parents are eager for him to step in and trade places with retiring SRO, Tim Williams, to begin his duties protecting the Livingston School District. 
Similar to his predecessor, Chris Gentile says he's focused on motivating the students, and being a good role model, as well as continuing to work with teachers and parents to educate students and gain presence among the community. "I want to be seen at all schools making weekly rounds of different schools at different times…I would like to give all the classroom presentations…and be at any events that the schedule puts in," says Gentile. He plans to work to join his light-hearted and goofy nature to promote an understanding atmosphere. Officer Gentile also wants to give students the opportunity to effectively work through conflict without him coming off as overbearing. "The thing I look forward to the most is expanding the traditional role of being a peace officer…and doing more behavioral-based mentoring and counseling rather than ticket writing and arrests" Gentile comments.
 Continuing with Park High's open-door policy, students will have the availability to approach him with anything from personal issues, school sporting accomplishments, or even positive events from the weekend with the intention that they will be listened to openly and fairly. To add, punny jokes are always solicited from any student or staff member and are guaranteed a light-hearted laugh from Officer Chris. Gentile goes on to comment "kindness, patience, understanding and empathizing with people. That's kind of what I take pride in doing…being firm and very consistent. Meaning, not always treating every situation equally, but treating it fairly." 
Believe it or not, Officer Chris went to high school in a large metropolitan area not all that long ago, attending sporting events, goofing off in class, frequently utilizing Kanye West power points, and even going through the similar overwhelming struggles of academic life. However, it is through these experiences that he has become so relatable to students. Officer Chris says "I was a pretty silly guy. I tried to laugh. I liked to make really absurd jokes. I was kind of like a chameleon in the sense that I got along with pretty much everyone" Gentile always knew what he wanted to do, but also went through several personal and academic struggles. It was at this point that he began to use his time in high school to mature, while also maintaining his silly personality to work towards his goal of helping people as an adult.