Office staff seeks to squelch the winter blues with February drawings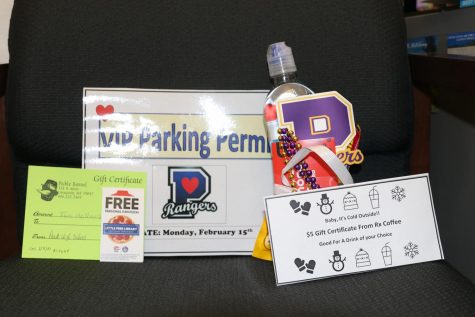 In the classic book The Phantom Tollbooth, there is a dreary place called The Doldrums, where people are stuck, doing nothing all day long.  That is how guidance counselor Abby Kinsey describes the month of February: The Doldrums.  Halfway between Christmas and spring break, the shortest month sometimes feels the longest.
Members of the guidance department and other office staff wondering what they could do to lift the spirits of Park High staff and students.  They started with a simple idea: ask Co-Principal Lori Dust to give up her parking spot in the front oval for the rest of the month, allowing a lucky winner each day to park in the prime spot.  From there, the idea grew.
"It was spur of the moment," explained Kinsey.
Soon, Co-Principal Lynne Scalia had volunteered her parking spot as well, allowing both a staff member and a student the honors each day.  They didn't stop there.  Local businesses such as RX Coffee, Pizza Hut, Pickle Barrel, Mountain Air Sports and Treasure Lanes donated gift certificates to be awarded daily to staff and students.  The Boosters and PHS Angel Fund also provided support.
The drawings will continue throughout the rest of February and will honor a total of 66 people over the 12 school days left this month, Kinsey said.
Junior Cassiday Fletcher, who won a prize last week, said, "The addition of prizes to our everyday routine at school adds a sense of lightheartedness during the unfamiliar period of COVID-19."