Park High boys basketball team places 3rd at the divisional tournament for the second year in a row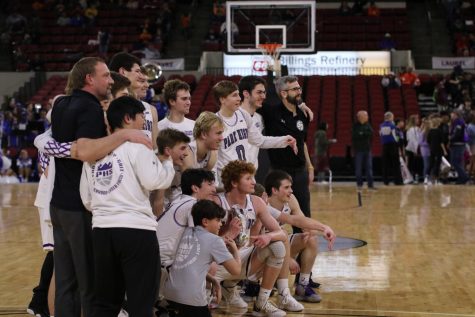 The Park Rangers came into the divisional tournament confident as the third seed in the Southeast A conference. This conference, in its first year, dominated Class A competition with all four teams making it to state. The Hardin Bulldogs, Billing Central Rams, Park High Rangers, and Laurel Locomotives, will all four be competing at the State tournament beginning March 12th. 
Going into the tournament the Rangers knew that the competition would be fierce and they would need to play their best ball to secure a spot to state. Brendon Johnson, the Ranger's senior point guard, explained, "We came out thinking we were underdogs but that didn't stop us from coming out and doing our best." That is exactly what the Rangers did.
The Park Rangers started off the divisional tournament strong with a win against Havre on Wednesday afternoon. With a full day of rest Thursday, the boys did not face the Hardin Bulldogs until Friday afternoon. 
The Rangers were unable to find their groove on offense, allowing the Bulldogs a strong victory with a 67-33 win. Johnson, the Ranger's leading scorer who averaged 26.7 points per game going into the tournament, scored only four during this tough match up. 
This loss did not slow the Rangers momentum as they went into the early morning state qualifying game against Fergus Saturday. The Rangers maintained a steady lead throughout the game and were able to defeat the Fergus Eagles 59-51.
With a spot to state secured, the Rangers celebrated their win by supporting their girls team who played the Laurel Locomotives directly after their game to qualify for state. The energy and support from the boys team helped the Lady Rangers to also earn a spot to the state tournament.
The Ranger boys would also face the Locomotives later that day in the consolation game for third and fourth place. The Rangers got off to a slow start and were down at the half, 18-15.  The Rangers came out in the second half determined to pick up their play. With a strong third and fourth quarter the boys were able to defeat the Locomotives 58-48, taking the third place title for the divisional tournament.
This is the 2nd year in a row that the Rangers have placed third in the divisional tournament. The Rangers are led by a senior-heavy team, with seven seniors familiar with what it would take for them to once again place at the Divisional tournament.
 Last season at the state tournament the Rangers lost out in their third game. This year, however, senior leader Rylee Watt  said, "We plan to outwork every team we come up against." 
The Rangers first game is Thursday March 12th at 9:00am at the Rimrock Auto arena in Billings.