Coach Hahn continues to make a difference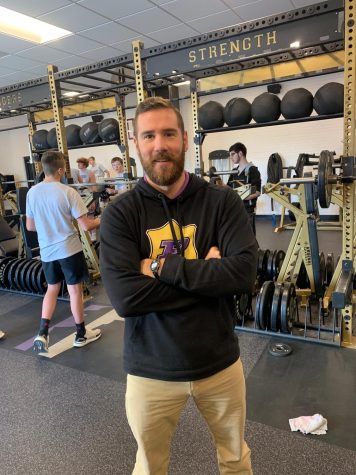 Have you ever met someone that changes your life for the better? We all have those people who will always be in our memories because of their influence. Whether they motivate you to work harder or they are so good at their job they completely change the dynamic of the environment. Whoever you have in mind, let's not forget about Coach Ben Hahn.
Standing there 6 feet tall about 195 lbs with his black jeans and a grey polo shirt, Hahn's undercut fades in almost perfectly with his beard and his fish tattoo on his left bicep is often visible.
"I love fly fishing, I'm a guide in the summer," he said when I asked what his other hobbies he enjoys. Ben Hahn takes fitness very seriously. Whether that be with his students or his own personal diet. "I am on a vegan diet, but I still try to get all the proper ratios of macronutrients."
Before Hahn started at Park High three years ago, the weight room was outdated. "The weight room was awful and very old. Only the sports teams used it," said senior David Durgan. During Hahn's first year at PHS, the Lift Life Foundation gave the weight room a complete makeover.
In addition to the physical improvements made to the weight room, Hahn instituted the use of app called Platform that allows students to continue their weightlifting program when they are not at school. Sports teams are also able to use the app to establish consistency between the school's program and their own training.
Junior Mario Ungaretti has been in Hahn's class since last year and has taken it every semester. "I was really behind my brother before I started taking Hahn's class, now I am almost stronger than he is," said Mario.
Last year, Hahn and a small group of students attended a power lifting competition in Helena, and in their respective weight classes, the students placed well.
Ungaretti mentioned that he may go to the power lifting competition this March. "Having a hurt knee makes lifting a little difficult but Hahn has pushed me harder to keep going," he said.
Hahn is not only a teacher but he is the head wrestling coach. 2019 PHS graduate Shane Gibson won state for the school in his senior year, the first time since 1970 that a Ranger wrestler won a state title. He is now in Minnesota on a full-ride scholarship for wrestling. The Golden Gophers have claimed seven national championships.
Since last year the Sweet Grass County High School wrestling program has merged with the Rangers wrestling program. Some of the wrestlers from Big Timber who are wrestling on the joint team are Adin Gibson and Danyk Jacobsen.
This merge has been quite a success not only considering we have more numbers this year, which means as a team we can start winning, but Hahn stated that for the first time in a long time we have a wrestler in almost every weight class.
Proof that the merge was a success just shows in our record and the fact we placed seventh place in state this year. Aden Rogge, who has been wrestling since he was a young kid in the Windy City program, was the varsity senior of the team. Placing in state was a dream of his since he was a young wrestler and because of Hahn and the merge, although he personally didn't make it to state, the team did.