Senior Night Football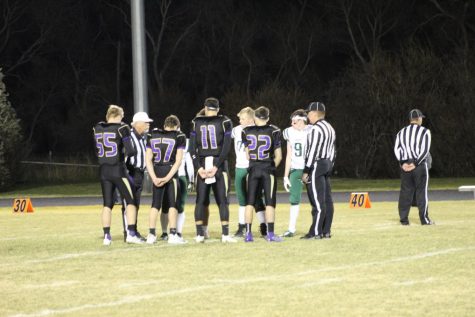 Senior night, a night that every underclassmen thinks is in the distant future. But if you ask any senior, that time flies. And for these three seniors, their senior night crept on them very quickly.
Seniors Jack Gauthier, Sage McMinn, and Aden Rogge all gave up their senior year to better the program. They showed the underclassmen the values and importance of  hard work, dedication to the weight room, and heart.
Jack Gauthier and Sage McMinn both understood the reasons for forfeiting the season. With low upperclassmen numbers, the game just became too dangerous, with too many injuries in the one and only varsity game against Lewistown. There wasn't a competitive match up, with the Rangers being at a severe disadvantage size wise against Lewistown.
Gauthier stated that "playing a JV schedule helped teach the underclassmen be competitive against players their own age and size."  And with the large turnouts to the home games, it has given players a warm welcoming to the high school with everyone supporting their fellow Rangers.
With the hope of a Varsity schedule in the coming years, the legacy left by these seniors will be remembered, as the seniors who gave up their season for a better future of the program.