Volleyball and cross country seniors compete for the last time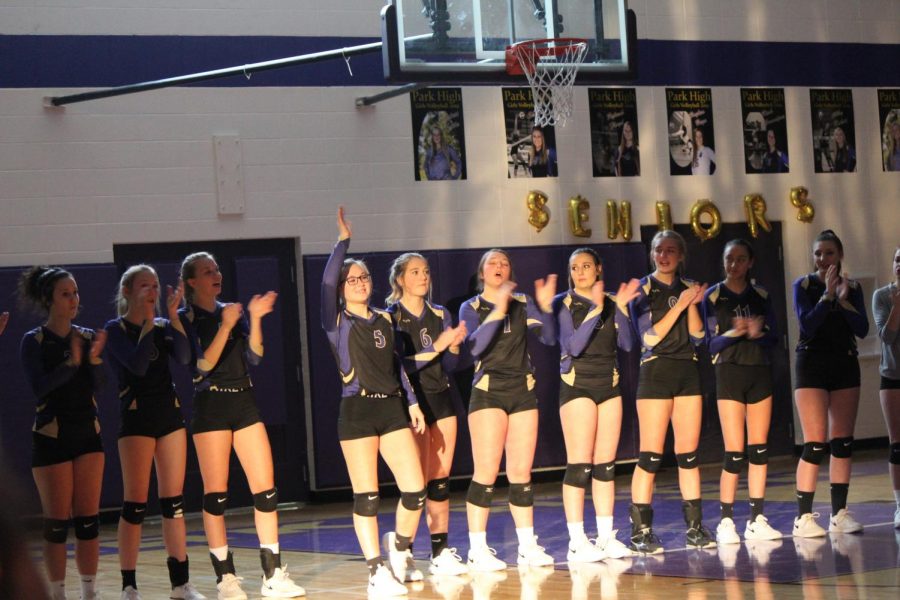 Leinee Smith, Geyser Staff Writer
November 5, 2019
On Saturday, November 2, the Park High senior cross country and volleyball players were walked onto the court with friends and family to represent their final competitions. The volleyball team won their final home game in three  matches against Dillion. Cross country had their final meet on Saturday, October 26 in Great Falls.
Volleyball seniors that were recognized before the game include, Shania Johnson, Abby Kokot, Riah Grandpre, Ryleah Floyd, Brylea Beye, and managers Scarlett Saile and Taylor Watts. 
Park High senior, Riah Grandpre, is a varsity defensive specialist. She was escorted onto the court on Saturday by her mom, Jennifer, dad, Zac, and sister, Aubrielle. For the last two years, Grandpre has been working hard at being a good defensive specialist. During her first two years playing, she did not have a set position. After high school, Grandpre is considering playing intramural volleyball.
The senior cross country competitors that walked alongside friends and family onto the court include David Durgan, Chris Orr, Sylvie Schoenen, Charles Yeager, and Chase Petrulis. 
Cross country senior Sylvie Schoenen has been competing in cross country since her freshman year. Before the senior night volleyball game, Schoenen  walked onto the court with her mother, father, and sister, Megan. She is going to miss having fun with her teammates. " My favorite memory from this season was when Ellie got Sam Fullbrights' autograph at divisionals…he was the boys divisional champion, and he also won state a week later," said Schoenen. Even though she is planning on pursuing tennis in college, Schoenen says she will definitely keep running.