Staying warm and stylish this winter
In the crazy Montana weather, winter can be especially hard to dress for. Staying stylish and fashionable tends to go by the wayside in an effort to stay warm. However, its not impossible. Here are some tips from some fellow students on ways they get the best of both worlds.
Mackenzie Watt, a junior, says that her favorite outfit consists of mostly skinny jeans, sweatshirt, vest, and her classic Carhartt beanie. "I wouldn't say I'm super fashionable, but I also don't look like a hobo and I'm warm," she explained. She also likes to rock her either black or turquoise Vans with her winter outfits.
The Carhartt beanie seems to be one of the most popular looks this season so far. The look works just as well with leggings and Uggs as it does with jeans and boots.
Bailey Opitz, a sophomore, follows pretty close to the same fashion as Mackenzie. She suggests a heavy sweatshirt and vest. Her go-to vest brand is Carhartt because "it keeps you really warm but also gives you a lot of outfit options." When it comes to hats, she's not too picky as long as it has a puff ball on top. She feels that it adds a little style and flare to your boring outfit, but also provides warmth.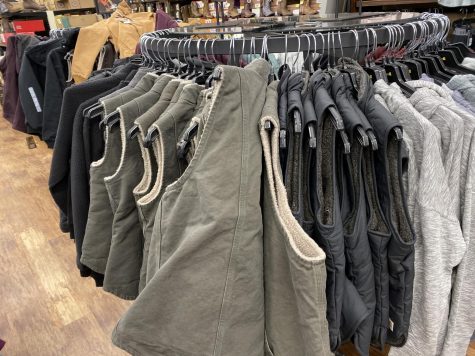 Another popular style that keeps you both warm and looking good is a scarf. There are so many different styles of scarves and ways to wear them that it would be impossible to go through all of them. Scarves come in tons of different colors, patterns, and fabric, so you are sure to be able to find one to your liking and that will go with any of your outfits.
Whether you tend to lean more towards warmth or style, there are lots of ways you can accomplish both. This can be done either by a colorful or patterned vest, a stylish sweatshirt or sweater, skinny jeans, leggings, or regular jeans, and adding some flare with a crazy puff ball hat or just a cool colored one.