Gateway Protection Act passes and The Geyser gets an insider interview
With the passage of the Gateway Protection Act this year, Representative Greg Gianforte came to Livingston April 23 to present a signed copy of the bill to the city. This has been a bi-partisan movement to permanently remove mining from the area around Yellowstone National Park.
A couple of members of our staff were able to sit down with Gianforte afterward to ask about what was next now that this big project is done. More specifically, we asked him about what he thought the future held for teenagers.
Gianforte was asked about medical marijuana in the state of Montana. "I do know that THC has positive medicinal value. So, I'm supportive of medicinal THC, the active component of marijuana, particularly for people with chronic pain," he said. He emphasized that medicinal use should be "under the care of a doctor and dispensed by a pharmacist," to maintain a positive outcome.
Rural broadband was an issue that Gianforte took on after joining the Energy and Commerce Committee. He explained that he believes having strong broadband gives people access to the world and the ability to work a job from far away.
From his personal experience in business, he explains the importance of strong, reliable internet. "My professional life was in the Internet world. We started the business in Bozeman it grew to eleven hundred employees. We were one of the top 100 Web sites in the world." Gianforte says he thinks the best regulation is a light touch and higher regulation stifles growth.
In addition to broadband, there is a push to reduce prescription drug costs. Gianforte explained that as younger generations reach an age where they must be concerned about taking care of themselves, the cost of prescriptions can be challenging. Senator Steve Daines wrote in his April newsletter that "One of my highest priorities is reducing the cost of prescription drugs."
With the increase of school shootings, Gianforte believes that there isn't much that can be done from miles and miles away without community involvement. Gianforte pushed the idea of "If you see something, say something" he explains "Let's help these young people get the help that they need." Gianforte believes that the biggest issue that shall be inherited by future generations is our national debt. he related this to personal finance. "I know in our homes we have to balance our checkbooks every month. The federal government hasn't been doing that."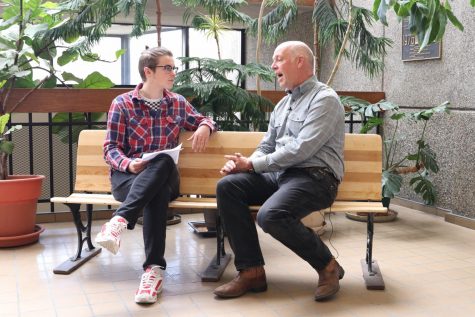 The full text of our interview can be found on our website. What do you think is the biggest issue facing our generation? Take our poll at parkhighgeyser.org.