Tennis Participation Down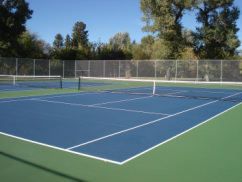 This year's Park High tennis team, although it looks promising, has seen a big decrease in participation this year. With only five seniors and seven returning players,  participation is down from previous years. Of course, there were a handful of seniors who graduated and some underclassmen decided not to return this year.
Coach Kandy Chain said, "We lost a few people to conflicting sports and activities. Soccer this year won't allow their players to participate in both this year, so those players had to make a choice. I still must accommodate for other activities as well. Things such as baseball, the school play, TSA, and BPA are all things that I have had to accommodate for this season."
Junior Brendon Johnson, who played singles tennis last year, decided to do track instead. "I just wanted to try out track for a year," he said.  "I have a lot of friends who do it so I figured I would try it out." He does plan to return to tennis next year.
Juniors Ciara Madden and Malea Coleman decided to turn their sights more towards soccer this year. "I just want to focus more on soccer now that I'm getting further into high school," said Madden.
There are a handful of others who did not participate this year; however, the Park High tennis team is still looking strong and is on their way to a great season.