Spring Sports in not really warm weather…
Hang on for a minute...we're trying to find some more stories you might like.
Even though the tennis courts are still covered with two feet of snow, Park High tennis is planning on starting in the middle of March. Feeding off a successful season last year, the players are ready to go. Along with the bonding factor, two-year team veteran Azalea Vance recently said the best part of tennis is that it is easy to learn.
Last year, both boys and girls squads made it to state, giving them a lot of momentum moving forward. "It was better in the past years, but now we have a lot of new people that have grown, and we should have a super good season," Vance added.
Junior Sylvie Schoenen went to state last year with her partner Kodie Vondra, where they won one game before losing out.  "I'm really excited since Kodie and I do have a really good chance of going to state," she said.
Both boys and girls compete in singles and doubles. Singles is one player vs another whereas doubles is two players working together. "Doubles is definitely easier because you can rely on another person to get the ball, and you only have one side of the court to worry about," Vance said.
The tennis team is open for new comers, and with a varsity and JV teams. If you are interested, contact Mrs Wood or Officer Williams.
Track practice started March 11. Head coach Ben Hahn said, "The best part of track is seeing a lot of different athletic kids participating in this sport. We get a little bit of everything."
Track offers a variety of events such as sprinting, long distance, javelin, pole vaulting, and long jump. "We have many different events, so everybody can find something they enjoy or are good at," Hahn added.
Junior Nick Battrick explained the track team as "Individually, we are very good because we have very athletic kids that motivate themselves to be very good."
Last year, Ranger runners managed to set two new school records in the 4 x 4 and 4 x 1 on the boy's side. When asked what the 4 x 4 team will be focusing this year, sophomore Jack Waddell said, they are "just focused on mainly the 400 in general. We lost one of the members on our team, so we are trying to find the next person to step up and take over."
Overall, the track team placed fifth at state and is planning on making their mark higher at state this year.
Softball started March 11 and eight-year softball veteran Haleigh Gilliam could not be more excited. "The adrenaline that you get when you're playing sports definitely has to be my favorite part," Gilliam said.
Due to a small roster, the softball team struggled to make a huge stab against some teams last year, but Gilliam is confident that they can build on what they started. "When we started trusting and working as a team, it got better," she said.
Junior third baseman Reagan Frantz said they are adding a group of freshmen to the team, and most of last year's roster will be returning except for five players who graduated. This will be head coach Julie Higgs' second year at the helm, and Frantz said, "she's amazing."
Even though the fields are covered in snow, Gilliam said they have been doing batting practice in the gym after school. One of the goals Gilliam has for the season is "I would really like to make it to state, and if we have the mind set to keep pushing ourselves, I think we have a really good chance to."
About the Writer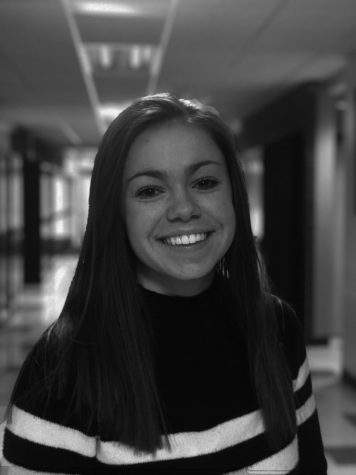 Brylea Beye, Reporter
Brylea Beye enjoys writing for the sports section, as she is a three-sport athlete herself.  Whether competing the Rangers or cheering them on as a two-year...