New drivers to hit the roads; it's a slippery learning curve
Hang on for a minute...we're trying to find some more stories you might like.
The month of December never fails to bring excitement and festivities of Christmas, but it also carries in a load of sophomores into the DMV to get their license. They have been patiently waiting for six months for this taste of freedom, but are they prepared to be driving by themselves on icy winter roads?  
Wendy Murray-Allen, a Livingston Motor Vehicle Division worker, says "We like drivers to be in total control of their vehicle and if in the event they hit an icy patch, they should be comfortable with their skill level to handle that."   
Contrary to the wishes of Murray-Allen, Tae Kryzsko, a Park High sophomore who is receiving her license in December, claims she isn't confident enough to be driving on icy roads. "There's no really good way to help prepare drivers for the ice and snow, unless you experience it yourself," says Kryzsko. 
Since Kryzsko hasn't had any experience with these hazardous roads, she thinks that driver's education should be offered in the spring instead of the start of summer. "It's really convenient that way [to have it in in the spring] because a lot of people plan trips over the summer. If you get it [driver's education] in spring, you would get your license at the beginning of October, which is a dry time." 
Murray-Allen's statement about drivers being confident enough to drive on icy roads may not apply to Kryzsko, but it does to one sophomore, Gage Wood. He is also receiving his license this month and exudes an overwhelming confidence in his ability to drive on winter roads. He feels that driver's education is offered at an appropriate time and that the summer provides ample time to practice driving. 
No matter the timing of driver's education, there is no substitute for experience. Every teen might not be ready for the road. But one thing is certain, teens are not ready for the same level of driving responsibility as adults. According to the NHTSA (National Highway Transportation Safety Administration), teens have a higher rate of fatal crashes due to lack of maturity behind the wheel. The NHTSA also says distractions and an inability to accurately gauge driving conditions compound themselves to create high-risk driving conditions for new drivers.  
Some newly licensed drivers at PHS are also challenged with the task of driving on an interstate (I-90) in wintry road conditions to get to school. According to the USDOT (United States Department of Transportation), 24 percent of weather-related accidents occur on snowy, slushy, or icy pavement. The USDOT also reports an average of 1,836 deaths and 136,309 injuries per year because of icy roads. The icy road fatality count is 3.6 times higher than the total deaths from all other weather-related threats combined (i.e. flood, lightning, tornado, hurricane, and heat). Also, ice, including black ice, takes the driver by surprise because of its invisibility on the road surface.  
Altogether, newly licensed drivers at PHS need to be prepared for the threatening winter roads that lie ahead of them. Statistics prove that icy roads are one of the biggest hazards when driving. Livingston has many adverse weather conditions which makes becoming a new driver here a challenge.  
About the Writer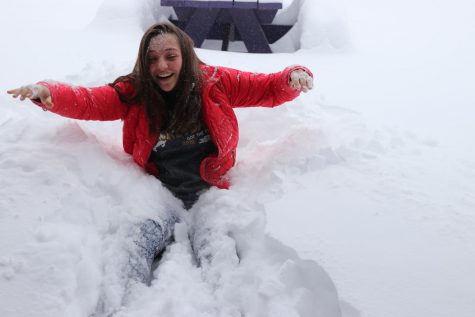 Terran Speake, Reporter
Terran Speake is a sophomore new to Park High who has made herself and integral part of the sports and journalism programs.  She plays volleyball and...