Culinary Arts eats together for Dine-in Day
Hang on for a minute...we're trying to find some more stories you might like.
Every year families are supposed to sit down together and share a meal in the attempt to show the importance of eating meals together. People across the United States and the world are participating in the family dine in day, Park High included. The week of December 3rd students made recipes that they chose. Once these foods are prepared, they then sat down together and shared a big meal. Family Dine-in day is an event hosted by FCS that celebrates the birthday of Ellen Swallow Richards, the creator of the Family and Consumer Sciences.  
Eating with family is something Park High students aren't a stranger to. 69 percent of students surveyed in the Culinary Arts classes have said that they eat with their families at least four nights a week and 75 percent of students surveyed say they eat at home at least five nights a week. And 92 percent of students say they either eat out once a week or never.  
Eating with family is proven to be healthier for children. "When you eat with family often you build strong relationships with each other, eat more nutritious meals, are less likely to get involved in high risk activities, such as drugs and alcohol and are also less likely to become obese. These reasons should be enough to get you in your house eating with your family," says student teacher Melanie Young. 
When it comes to Culinary Arts itself the two classes of culinary arts are learning some serious cooking skills. When students were surveyed, kids said that they cook once a week and said that they have used recipes learned in their culinary arts classes at home. More than 80 percent of the young chefs said they would most likely take a culinary arts class again.  
During culinary arts classes the students are split into six groups, each of four or less students. So far this year they have learned how to cook with vegetables, bake yeast breads, and work with quick breads. Most FCS classes are semester long at Park High, so students have a great opportunity to fit these classes into their schedule. 
"Family and Consumer Sciences is a field of study focused on science and the art of living well in our complex world," according to the FCS website. At Park High, the FCS classes available are Culinary Arts, Interior Design, Culture and Cuisine, Child Development, ProStart, Intro to the Real World, Fashion and Intro to FCS.  
Overall, the culinary classes are working to see the importance in food and family and are getting some good eats in the process.
About the Contributor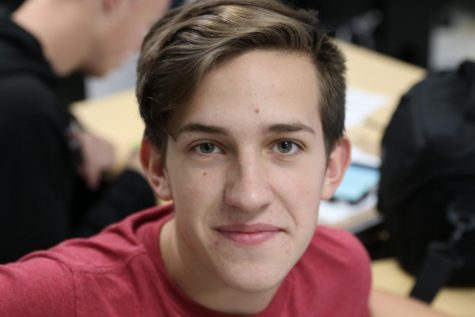 Chase Petrulis, Video Editor
I'm Chase and I like to make videos. I particularly enjoy editing the videos and making graphics for them. Some projects I've worked on so far is the story...