Park High Graduate's Unique Career Choice
Hang on for a minute...we're trying to find some more stories you might like.
Charles Cornwall graduated from Park High School two years ago. After graduation, he chose a unique career path. He decided to enlist and become a Military Police Officer in the Marine Corps.
He started his career off at the Marine Recruit Depot in San Diego, California. During basic training, he learned how to be a rifleman and the basic skills he would need if he went into active duty. He was in California for 13 weeks doing field training and classroom work. After graduation, he was sent to Fort Leonard Wood, Missouri for his police training. For seven months was in Missouri as part of the 2nd Law Enforcement Battalion.
Earlier this year, he was stationed in Camp Lejeune, North Carolina, and he works as a police officer at the Marine Corps Air station in New River, North Carolina. As a cop, he must patrol on the base and respond to intrusion alarms, fire alarms, suicides, domestics and DUI's.
He also must work at gates and do vehicle inspections and check ID's. During traffic stops, he must frequently inspect Domino's pizza trucks that are entering the base.
He has been working in North Carolina for two months as a cop. During Hurricane Michael, the base sent all non-essential personnel home, but because he is a cop on the base, he had to stay and patrol during the storm.
He spent most of his time doing field work, shooting at the range, prepping for deployment, training for room clearing and detaining and waiting to get stationed somewhere as an MP.
Throughout his training, he has had to go through many courses in order to get his badge, and he has been tazed, pepper sprayed, has been trained in a variety of weapons, and has done close quarter combat training. Through his training he was awarded with the expert marksman award for both rifle and pistol qualifications. It has taken him a year and three months to reach the rank of Lance Corporal. "I am glad I enlisted", Cornwall said. "I have met a lot of cool people, but there is also a lot of stupid stuff that happens on the base."
About the Writer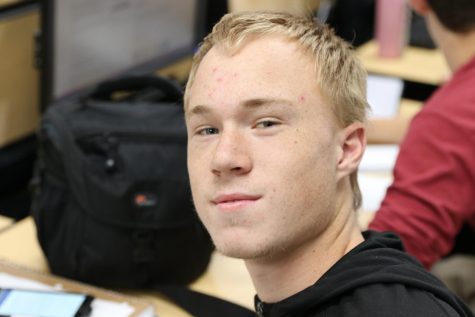 Henry Cornwall, Reporter/Weatherman
I play soccer almost year round.