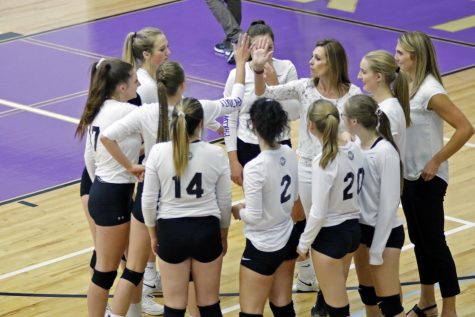 Ten years from now, who do you see yourself remembering from your past? Who was that person who made a difference in your life that you would love to catch up with years later? For Park High's head volleyball coach, Joey Lane, she would hope that her name would quickly come to mind for her past players.
After 13 years as head coach, Lane announced after this last season that it is time for her to hang up her whistle. With her kids growing up and moving away, it is difficult for Lane to continue to devote so much time to the program when she is wanting to travel to visit them. Lane plans to still be involved with coaching and help when she can because it is a passion which she cannot give up easily. She made this decision with a heavy heart and careful deliberation.
Lane has put an endless amount of time and work into the volleyball program. Giving it up is not easy. Lane explained, "It's your baby and you don't want to hand it over until you know it will be in good hands." Lane is confident that the program is strong and will be able to adjust to the coaching change with ease.
Lane has had many mentors in her life that have helped her to transform into the coach she is today. As a child Lane grew up watching and learning from her father who was a wrestling coach for 25 years. She also had the opportunity to coach the cross country team with her father at Park High for five years. Lane described this involvement as one of the most inspiring and impactful of her life.
Through both experiences she saw her father make connections with his players that have lasted a lifetime. His players from many years past would still call him up and stay in touch as they got older. This solid connection with his players is the same relationship Lane strived to develop with her players going into each season.
Lane explained that there is no better feeling than knowing you were able to impact a player and pass on the love of the game. Lane's number one goal as a coach going into every season was giving the players a good experience. "Unless you win something big, what do you remember? The memories," Lane said. She hoped to have a significant enough impact on her players that they would still want to be in contact with her ten years later.
Lane has had many past players come back and volunteer to coach and help out during the season. Emily Cornell is one of the many alumni volleyball players who volunteered to aid Lane during the season. Although Cornell is a busy student at MSU she still took the time to drive over to Livingston to make it to every volleyball practice.
When Cornell was asked about Lane she expressed that Lane is simply a lovable person, "She is the type of coach you respect, look up to, and want to follow," she said.
Coaching has been a part of Lane's life for 25 years. In addition to volleyball, she coached track and cross country as well. Lane first began coaching in Joliet for two years and both those seasons the volleyball team made it to State.
Lane admitted this success was not all on her part. Her players were hard workers and she was also able to call on people such as experienced volleyball coach, Therese King, for advice. King coached alongside Lane during volleyball clinics and had always been someone Lane looked to for advice. King said Lane would constantly call her up for advice and be able to take what King would say on the phone and apply it to her team in seconds. This dedication to making her team as strong as possible is what enabled her to have the successful seasons she has had.
Lane began coaching volleyball at Park High in 2007. She would continue to coach the Rangers for 13 years, making her one of the longest standing volleyball coaches at Park High. During those years one of Lane's most successful teams made it all the way to the State A Championship in 2010, taking second place to Fergus. This accomplishment is huge, but also heartbreaking, to make it so far and not snatch the first place trophy. Lane admitted that it took her three days before she got out of bed. This response to such a difficult feat is exactly that of a dedicated coach.
As Lane steps away from the program, she hopes that she has made an impact on the players that she has coached, as she has strived to make her players the best they could be both on and off the court.