Trains cause trouble in morning commute
Hang on for a minute...we're trying to find some more stories you might like.
Trains are causing endless issues in Livingston. Whether you're headed to school or work there's always something that will stop you from reaching your destination on time.
Attendance secretary Melissa Cahoon estimates that on an average, eight to ten students are late to school each day because of trains.
Madison Bartz, a junior at Park High School who lives on the north side, has struggled many times with making it to school on time because of trains. "Trains screw everything up because everybody is impatient and must go through the underpass," Bartz said. "You could still be waiting for several minutes just waiting because of the light. If somebody is trying to turn left, one person will get through. I've been late about three times last year because of the underpass," she said.
Last year Bartz went to Youth Legislature where she proposed a bill that trains should be "unable to pass from 7:30 to 9:30 a.m. just so the work and school flow doesn't cause a traffic jam," she explained.
Other solutions Bartz mentioned included making the traffic lights last longer, and inventing an app that shows when trains come through town.
Jim Lewis, Montana Rail Link's (MRL) Chief Sales & Marketing and Information Officer, said "there is no possible way of trains holding off from 7:30 to 9:30 as there is no set schedule for the trains. It all depends on when the shipper gets the product sent out and if MRL is on time to the shipper's destination. "
It's not just Park High students that are affected by this issue, but many people in the community have complained about the 5th street crossing. According to the Transportation Study Update done for the city of Livingston and published in September 2017, traffic volume has increased 60 percent since 2001 at the junction of 5th and Park.The Livingston City Commission has made it a priority to address transportation and growth issues on the north side of town. Melissa Nootz, the newest commission member, said in a phone interview that the 5th street crossing is particularly important to her.
One of the biggest obstacles to improving traffic flow is the ongoing debate over where to build a second underpass and how to pay for it. With recent approvals of new north side housing developments, the issue is rapidly coming to a head.
"Budget is a big constraint because we're not a very big town. I always wonder why Livingston hasn't considered a crossing that has nothing to do with cars because it's much less expensive," Nootz said. She mentioned other towns where crossings accommodate foot and bike traffic better.
Nootz mentioned that she encourages high school students to come to city commission meetings when there are topics being discussed that they have opinions on. She wants to hear what the non-voting members of our community think.
About the Photographer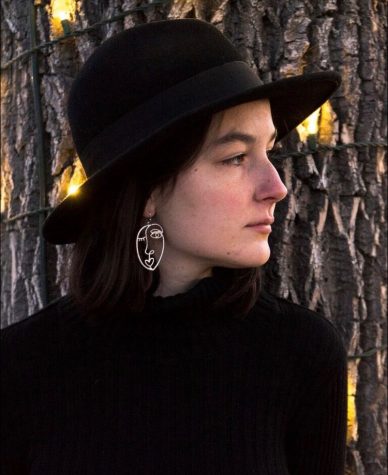 Dana Baskett, Editor in Chief
Dana has worked on the Geyser for two years now, and is looking to pursue a career in the field of journalism.  Her work has been recognized as award-winning...